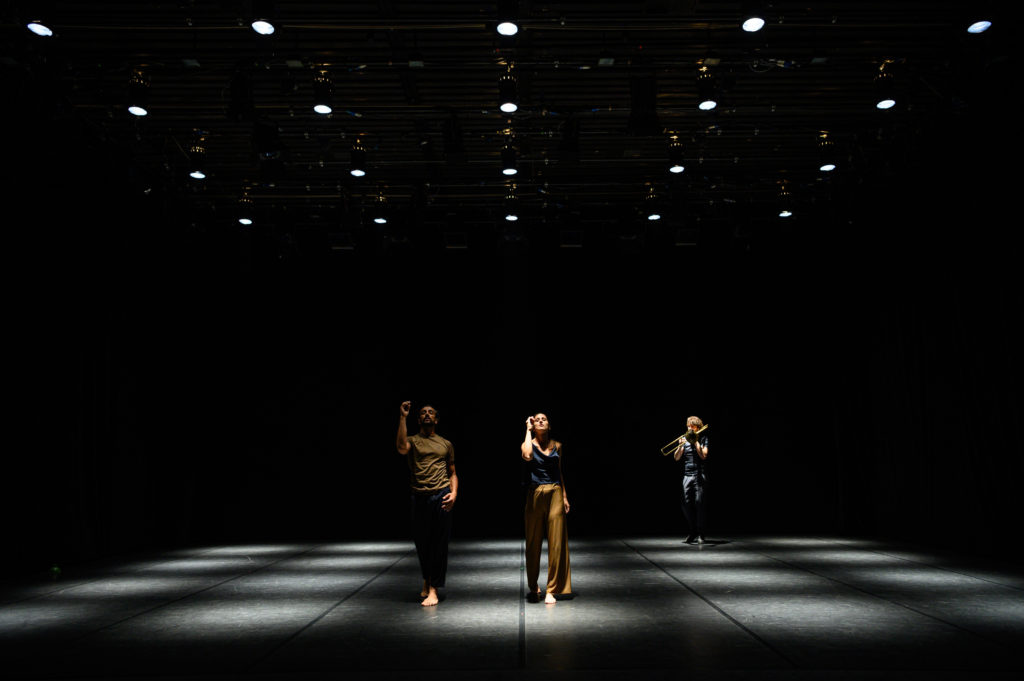 GOLDEN VARIATIONS _ MONGA/VIGNATO
Coreografia di Camilla Monga
Danzatori Camilla Monga e Pieradolfo Ciulli
Composizione musica Filippo Vignato (trombone)
Light design Alessio Guerra
Produzione VAN
Coproduzione Bolzano Danza e Novara JAZZ
Golden Variations is a collaboration between choreographer Camilla Monga and trombonist Filippo Vignato, challenged to create a shared piéce of contemporary dance and new music which would explore  the processes of improvisation and instant composition which unite the two disciplines.
Like a neverending real-time alchemic transformation on stage, Filippo Vignato is involved in a constant, multiform exploration of the rich palette of sounds available from his instrument. He takes inspiration from Camilla Monga and Pieradalfo Ciulli's patterns, at once leading and following their lines and moves, constructed with choreographic scores which have to be interpreted in a very personal way by the two dancers on stage.
Together, they aim to transport the audience into a collective unconcious musical memory, recalling the polyphony of ancestral chants, musique concrète, the blues, music-hall motifs, broadway songs and much more in between.
Music and dance become emotional science: one instrument and two bodies continuously change the audience sensory perception through a deeply evocative succession of surprising scenarios constructed of images and sounds.